Ground Anchors
This a great solution for portable garages, and temporary building projects. Our ground anchors are quick and easy to install and have less long-term impact on the environment. They are very versatile and are our most popular option for anchoring portable buildings right into the ground (asphalt, gravel or other types of soil).
Concrete Foundation
Concrete foundations such as poured-in-place concrete slabs, precast concrete slab sections, low-rise poured-in-place concrete walls, continuous and or sub-grade concrete pier footers are a more permanent fabric building solution and may be required for bigger facilities that need a more durable foundation.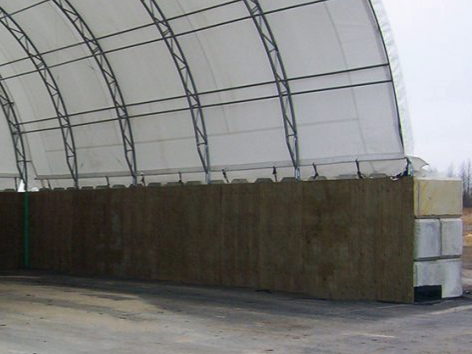 Pre-Cast Concrete Block Foundation
A pre-cast concrete block foundation is often used because they are easily moved, they are very portable, and provide good stability. They easily add extra height (one or multiple rows) to your portable structure and make for a good application for commercial and industrial purposes.
Sea Can (Intermodal Shipping Container) Foundation
With the right equipment, sea cans make a very versatile, affordable, and easily installed portable building foundation. Shipping containers also add height to your building and create extra storage, offices, washrooms, etc.! This set-up is easily moved and taken apart and is a great solution if you are renting land or are planning to relocate.