Portable Double-Truss Fabric Buildings
Unlimited Building Options
Are you looking for a versatile, reliable, and heavy-duty building solution? Look no further than our Double-Truss Building!
This engineered portable shelter is perfect for a variety of applications, from storage to industrial, commercial and agricultural uses. With its modular design and unlimited building options, the Double-Truss Building is sure to meet your needs!
Up to 80 ft Building Widths Available by any Length Required

Manufactured in Edmonton, AB – Engineered to Withstand Canadian Winters

2 3/8″ – 2 7/8″ x 13 Gauge Heavy Wall GatorShield® Galvanized Framework
Engineered Double-Truss Buildings
Highly Versatile Portable Fabric Buildings
Our double-truss portable membrane buildings are great for industrial, agricultural, and commercial use. Whether you need to store equipment, stockpile materials, build a work-space or manufacturing plant, our portable double-truss shelters are a great solution to any building need you might face!
Our double-truss portable buildings are available up to 80′ wide by any length required. Our buildings feature cladded metal end walls, with a sliding door and an entry door on one end. Various customization options are available.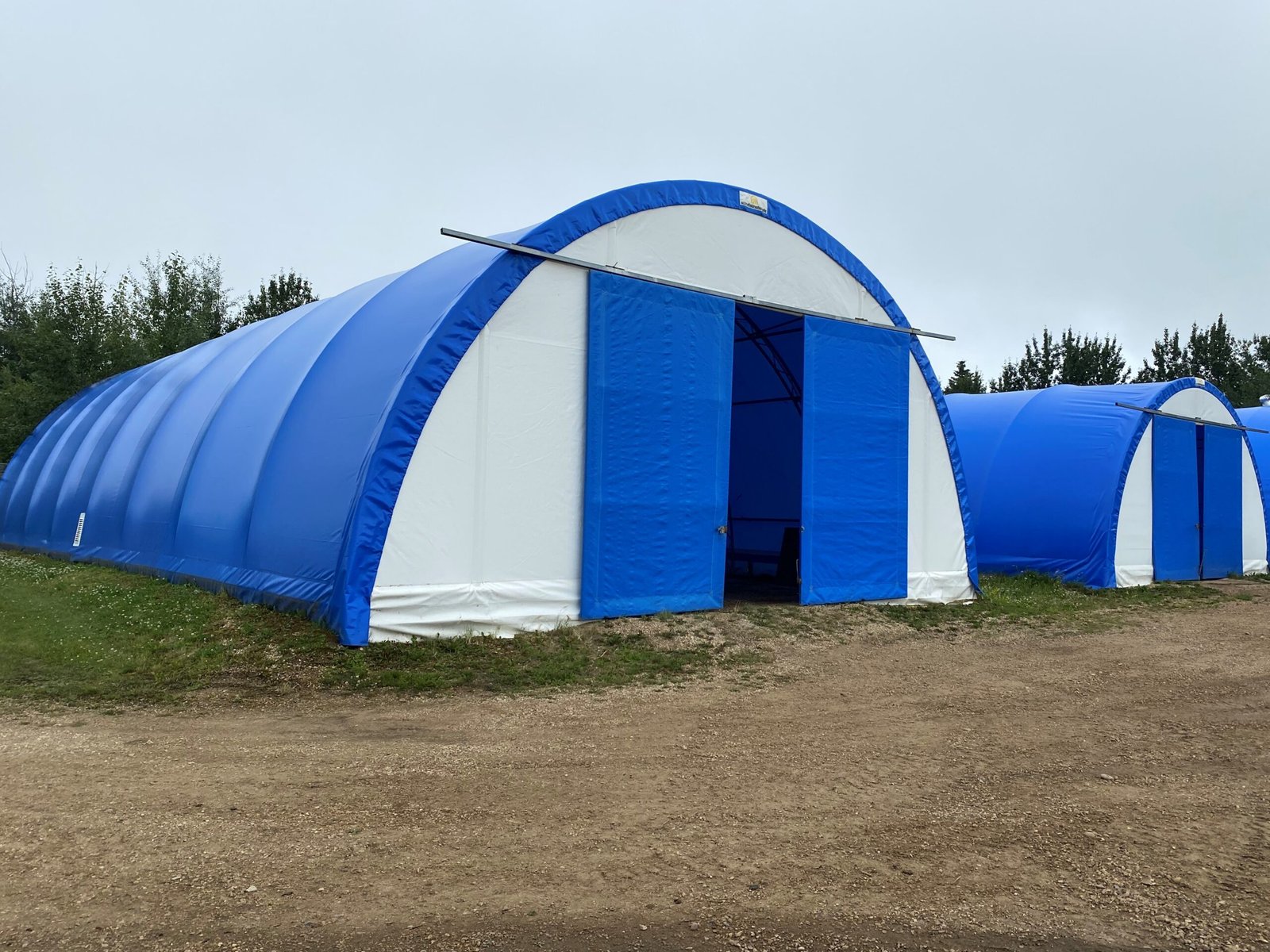 Designed and Manufactured to Last
Weather All Shelters manufacturers every portable building from high-quality Canadian made materials. Built in Edmonton, AB, Canada, we design and build our shelters with harsh environments in mind!
Building Cover Material Options
Standard
12 oz Woven HDPE Scrim
15-Year Limited Warranty
High Strength-to-Weight Ratio
Low Temperature Crack: -60°C (ASTM D2136)
>90% Strength Retention after 2000 hrs Exposure @ 0.77 W/m²/nm
Available in Clear, White, Red, Blue, Green, Silver
Standard + FR
12 oz Woven HDPE Scrim with FR Coating
15-Year Limited Warranty
High Strength-to-Weight Ratio
Low Temperature Crack: -60°C (ASTM D2136)
>90% Strength Retention after 2000 hrs Exposure @ 0.77 W/m²/nm
Available in Clear, White, Red, Blue, Green, Silver
ELITE
13.8 oz Woven FR-UV HDPE Tapes with Engineered PE FR Film/Coating
20-Year Limited Warranty
High Resistance to Crack Formation
High Level of Abrasion Resistance
Low Temperature Crack: -65°C (ASTM D2136)
>90% Strength Retention after 2000 hrs Exposure @ 0.77 W/m²/nm
Available in White Only
Optional Building Packages
Recent Projects
admin
TITAN Series - Building Installation Check out the video below! The building featured is one of our new TITAN Series Extra Wide [...]
admin
Custom Portable Fabric Building Gable Styled Half-Building Attachment In December we posted a drawing for a custom manufactured "half-building" attachment. Ever wondered what [...]
admin
More Info: 50′ Wide Double-Truss Fabric Building Preliminary Designs, Building Profiles, and Some Photos In our last post we've announced our new portable fabric [...]